"I prayed for this child, and the LORD has granted me what I asked of him. So now I give him to the LORD. For his whole life he will be given over to the LORD."
1 Samuel 1:27-28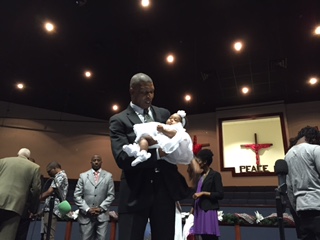 Laying a Foundation of Faith in Our Children
A Baby Dedication is a ceremony in which believing parents, and sometimes entire families, make a commitment before the Lord to submit a child to God's will and to raise that child according to God's Word and God's ways.
Christian parents who dedicate a child are making a promise to the Lord before the church congregation to do everything within their power to raise the child in a godly way, prayerfully, until he or she can make a decision on his or her own to follow God.
Baby dedications are offered every 4th Sunday at 11:30 a.m. at The Church at Bethel's Family. Parents and guardians wanting to christen or dedicate their child age three and younger, must attend two parenting classes. These classes are held on the 2nd and 3rd Sundays at 11:30 a.m. room 209 in CJEB). Godparents are encouraged to attend the dedication service. To schedule your dedicaton in a service please complete the form below.
Sign-up for baby dedications